What is the Canadian Stone Carving Festival?
This three-day event is a unique opportunity to interact with professional carvers, artisans and enthusiasts as they turn blocks of limestone into one-of-a-kind works of art using traditional methods.
On the 21st, 22nd and 23rd of July 2017, stone carvers from Canada, the U.S. and Europe will congregate at the famous Sparks Street outdoor Mall in Ottawa Ontario to display their skills and creativity. Using hand tools only, participants will have 18 hours over three days to complete their pieces. The public is invited to enjoy the sights and sounds of this traditional work site and to engage with the carvers. On the afternoon of the 23rd, all pieces will be auctioned to the public, with proceeds being donated to Ottawa Innercity Ministries.
The Canadian Stone Carving Festival is not a competition and is open to carvers of all levels of experience from beginner to professional. This event was created by Smith & Barber-Sculpture Atelier Inc. to promote craft fellowship amongst carvers, build public awareness about the trade and raise money for charity.


Visit the Sparks Street Mall website

Why Ottawa Ontario?
This year marks Canada's 150th anniversary of Confederation and what better place to hold the 2017 Canadian Stone Carving Festival than in the Nation's Capital. Ottawa has a rich history in the craft of stone carving and some of the finest examples you will find anywhere in the country can be seen on Parliament Hill.
What's on offer for our visitors?
Visitors to the festival will have the rare opportunity to glimpse into what a historical construction site may have felt like – Imagine watching chisels, mallets and other hand tools reveal unexpected shapes from blocks of stone. The Canadian Stone Carving Festival is a unique opportunity to engage with stone carvers as they create works of art through the time-honoured tradition of stone carving. Traditional tools of the craft will be on display for the public to view. Interested visitors will also have the opportunity to try their hand at stone carving in a special demonstration area.
The Sparks Street Mall – Located in the Parliamentary Precinct, Sparks Street is one of Ottawa's most significant heritage streets. It was founded in the early 1800's by Nicholas Sparks - one of the City Fathers of Ottawa. He cut a path through the woods that would eventually become Sparks Street. Sparks Street began to thrive in the early twentieth-century. During that time a number of Beaux-Arts buildings were built - many of which still stand today. Sparks Street is a thriving commercial centre comprising many blocks and is home to some of Ottawa's best shopping and a wide variety of events and activities throughout the year.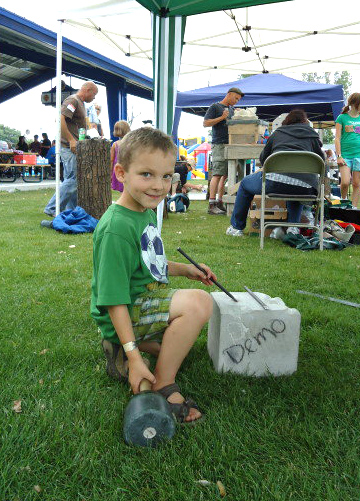 Auction
July 23rd at 2:00pm - The grand finale of this event will be a public auction of the finished pieces. This will be a wonderful occasion to enjoy the works of art created during the festival and perhaps even bring home your very own special piece! The auction will be held at the Sparks Street Mall. Entrance is free. Proceeds from the auction will be donated to Ottawa Innercity Ministries.